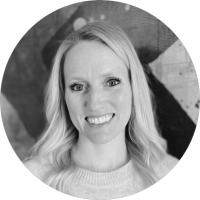 CHRISTINE BLACK
CSW
Master of Social Work — Brigham Young University
Bachelor of Science - Psychology - Brigham Young University
Acceptance and Commitment Therapy (ACT) | Exposure and Response Prevention (ERP) | Cognitive Behavioral Therapy (CBT) | Mindfulness | Play Therapy | Child Parent Relationship Training | Expressive Arts Therapy
I love to hear people's unique stories and help them find healing from emotional wounds. I am inspired by the strength, power and resilience of the human soul. As a therapist, I aim to create a safe space where the client can simultaneously feel seen and accepted, and find hope and healing through genuine connection. I believe that people have an inherent ability to move toward healing, and I feel honored to be part of a client's journey to authentic self-discovery and self-acceptance.

I have a Bachelor of Psychology and Master of Social Work from Brigham Young University. I draw on a variety of approaches in therapy including Acceptance and Commitment Therapy (ACT), Exposure and Response Prevention (ERP), mindfulness, Cognitive Behavioral Therapy (CBT), and experiential methods such as play therapy, expressive arts and sand tray.

I am passionate about supporting those who live with different varieties of OCD (including scrupulosity), experience postpartum depression, and members of the LGBTQ community. I have experience working with people of all ages through challenges including trauma, anxiety, OC related disorders, depression, suicidality, self-harm, behavioral issues in children, and LGBTQ related issues.

When I'm not working you can find me instructing group fitness classes at the gym, hiking in the mountains, dancing or spending quality time with my friends and family. There are few things I enjoy more than being active, being outside, traveling with friends and attending large family reunions with my siblings (I have 6!) and their families. I have a wonderful husband and we have 2 kids. Most of my time is spent with them, navigating motherhood; both the joys and the struggle it can be to simply survive!